Sale Sharks hosted three barbecues in three days as over 1,200 members of the 'Sharks Family' attended events at the club's High Performance Centre at the weekend.
Tryscoring legend and current Commercial Director Mark Cueto MBE compered all three sessions under blue skies in temperatures which scorched an increasingly yellow field.
On Friday afternoon, the club welcomed 200 sponsors, friends and guests. Early birds caught a quick glimpse of new signing Chris Ashton, who was being interviewed by ITV, BBC Manchester and The Times before returning to arrange the transportation of his bulldog Hugo back to the UK from France.

The players trained on the pitch and onlookers were kept informed of the session's targets by Director of Rugby Steve Diamond.
Lawrence Jones MBE, co-founder and CEO of headline sponsors UKFast, tweeted:
"Couldn't ask for a better afternoon at @SaleSharksRugby Annual Summer BBQ. Great weather, great food, great team!"

On Saturday, with the start brought forward two hours to enable fans the chance to return home before England's successful quarter final against Sweden in the World Cup, over 450 season ticket holders partook of the lavish BBQ and free drinks, while watching another open training session.
At both events, the players returned from the showers to meet attendees, with opportunities for 'selfies' and autographs, as well as general chat. Also, Steve Diamond and co-owner Simon Orange answered questions about the club from those present.
On Saturday, the Sharks' Academy Manager Brendan Thomas was delighted to receive a substantial cheque from Joe Parsonage, Chairman of the Supporters' Club, towards the Academy's tour and activities. The club continues to be grateful to the SSSC for their great support of our future stars.
Long term supporter Dean Styger wrote:
"Just wanted to thank you and everyone at the Club for organising a truly great BBQ day.
The day was great fun, organisation excellent, food and drink first class. Also great to see the players relaxed and talk freely to the supporters.
My overriding memory of the day was the massive smile on a small boy's face, who had just had his picture taken with Josh Strauss and Bryn Evans, when Bryn said to him "One day you will be as big as me….."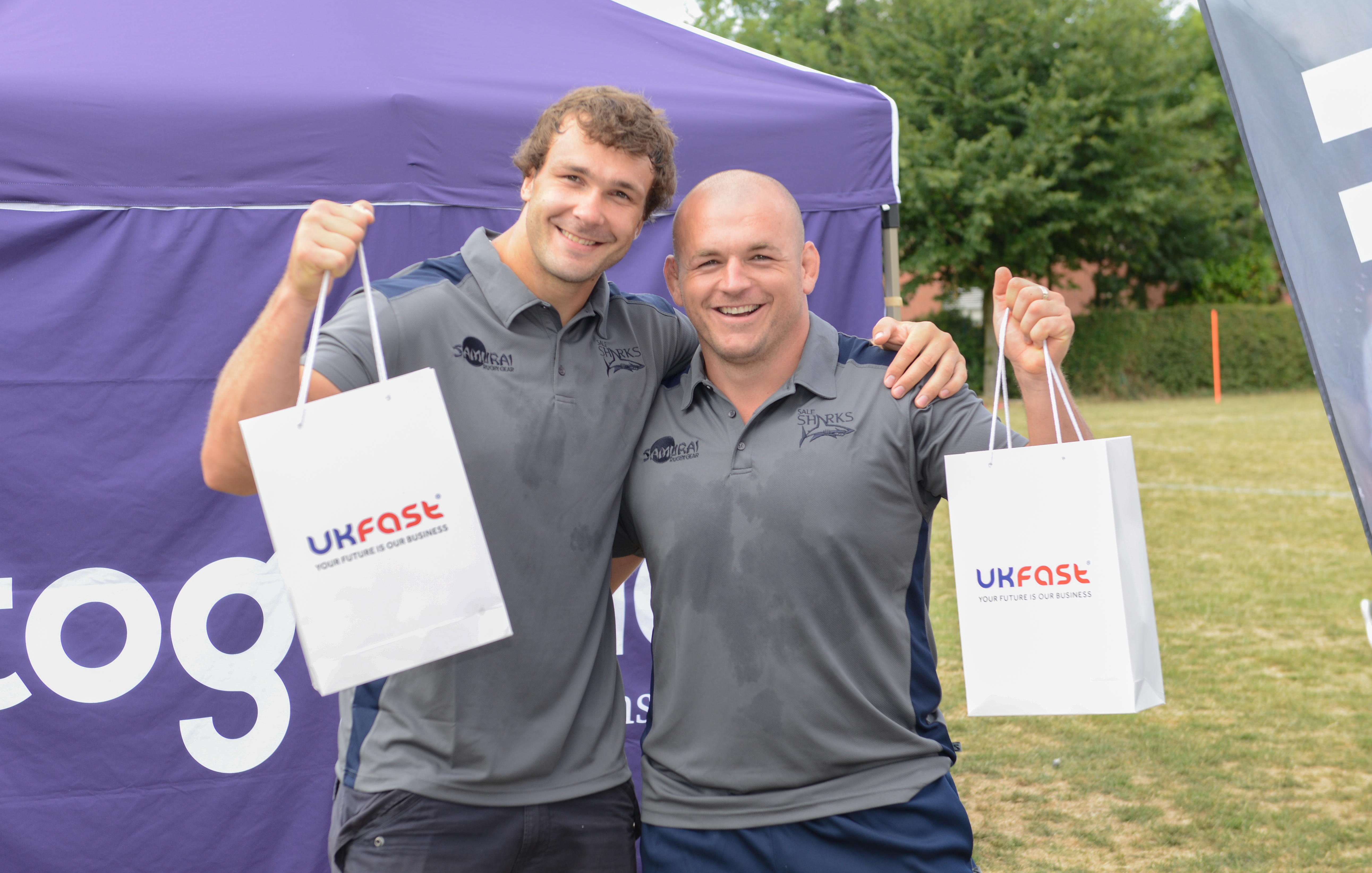 Sunday was a totally different affair, with a welcome 'invasion' of over 500 players and family members from twenty of our '100 Club' Under-10 and Under-11 teams.  The Sharks' players were allotted teams and there were medals for all at the end, before the biggest BBQ of the three.
Gemma Birbeck, writing for the website of welcome Yorkshire visitors Aireborough RUFC reported:
"This weekend Aireborough Under 11's headed West to take part in the Sale Sharks annual touch and pass tournament and summer BBQ. 14 of our talented Wolf Cubs took part in the tournament, demonstrating skill, teamwork and true sportsmanship.
Despite the extreme heat, they managed to secure wins in 2 of the 3 games, and work together to build a strong defence against their opposition. Furthermore, the support play throughout the tournament was fantastic, and their quick offloading skills led to some awesome tries.
"fter the tournament, the boys had the opportunity to catch up with some of the Sale Sharks players and even grabbed a quick photo with England legend Mark Cueto. A great day had by all."
And Clare Scurr of Preston Grashoppers tweeted:
"Thank you @SaleSharksRugby for a FANTASTIC day!!!! @RugbyHoppers thoroughly enjoyed it. Your hospitality was above & beyond too."